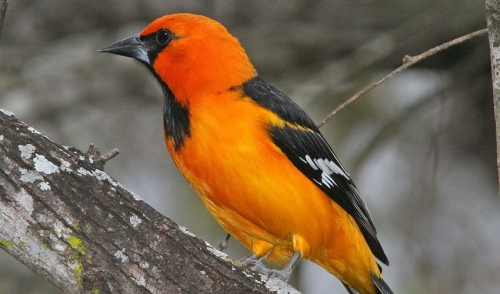 Orioles are popular and distinct backyard birds, but they can also be difficult to attract because of their unique preferences. Backyard birders who know how to make their yard oriole-friendly, however, will be rewarded with these beautiful birds all summer long.
Create a Separate Oriole Feeding Station
Orioles are relatively shy and are not likely to visit a very active, rambunctious feeding station filled with sparrows, finches and other backyard favorites. Instead, moving oriole feeders to a more secluded, private spot will provide these birds the security they require and can tempt them to stay for a meal. Ideally, position feeders near suitable plants and cover for nervous orioles to retreat if they feel threatened.


Satisfy Their Sweet Tooth
Orioles will sample a large variety of foods, but they prefer the sweetest treats at the feeders. Nectar, jelly and fresh oranges are their favorites, and there are different feeders for each morsel. A large nectar feeder with stable perches is ideal for orioles, and grape, apple or orange jelly can be offered in a simple dish. Orange halves can be placed in a feeder cage or just nailed to a fence or branch for the birds to enjoy.


Plant Berry Bushes and Orange Flowers
Natural foods are always appealing to birds, and orioles will be more likely to visit a backyard where there are abundant berry bushes such as blackberries, raspberries, huckleberries and elderberries. Orange flowers can also attract orioles, and planting nectar-rich varieties can help further satisfy their sweet cravings in an easy, natural way without spending more on birdseed or other foods.


Minimize Pesticide Use
All orioles eat insects, and breeding orioles especially need rich, healthy insect populations in order to meet the nutritional needs of their hungry hatchlings. Minimizing pesticide use in the backyard will ensure a bounty of bugs for the birds to eat, and orioles can be very effective at keeping a local insect population in check without chemical assistance.


Provide Adequate Water
Backyard birds need water to drink and bathe to keep their plumage in good condition, and orioles prefer relatively shallow baths that have some element of movement, such as a fountain, dripper or mister. The sounds of splashing and the noise from the movement will also attract the birds' attention and encourage them to visit.
By taking the right steps to make a backyard more oriole-friendly, it is possible to attract these stunning birds and enjoy them throughout the summer.